This week I joined Pinterest. Yep, just what the world needs, yet another social network. But wait, if that's how I feel, why have I joined?
Interesting question, and one I've been thinking about.
As is often the case it was brought to my attention as a potential marketing method for spreading the word about eBid sales and wotnot, and as is often the case I have yet to consider using it that way as I think social networks and marketing are a delicate balance and it's wise to wait until you have the feel of a place before you start spamming your neighbours.  So I'm there to use it for its intended purpose… so far at least!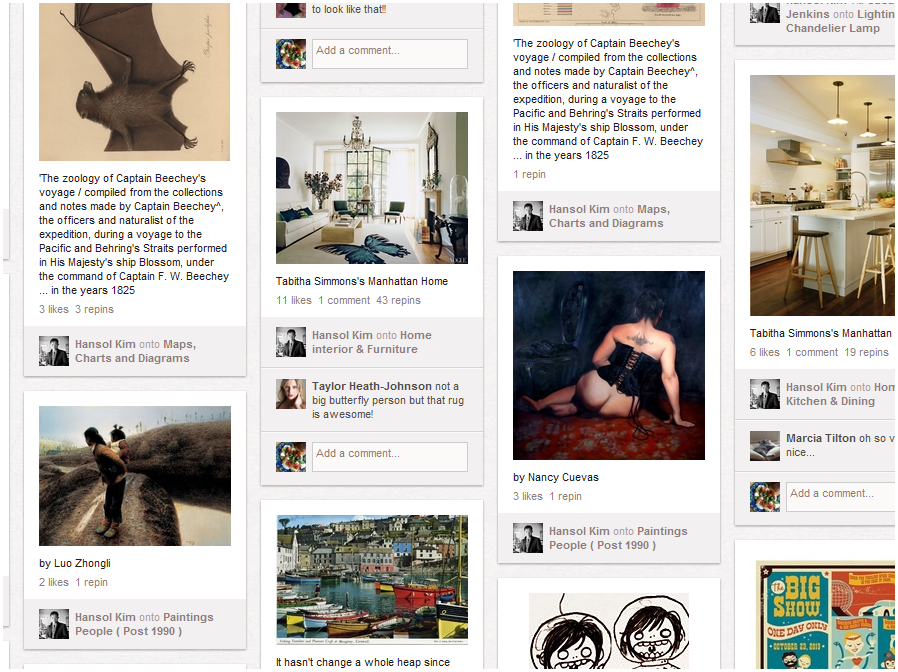 There's always been a little bit of the back of my brain that's gone "oooh…. scrapbooks!"  But the art of actual scrapbooking, buying little bits of twee nonsense to stick on pages, keeping tickets and cards to paste into books you never open again, has never quite added up for me. Maybe when I'm old and bored I'll regret it - or maybe technology will have moved on so far paper books are only seen in museums, who knows? 
Pinterest is rather like an electronic scrapbook. You paste in the little bits of nonsense and pretty things you find when wandering around the web. Or your own bits and bobs you'd like more of the world to see, of course. It has an attractive and easy to use interface, and does actually appear to achieve something both useful (in a limited, entertainment sort of way) and fairly original. 
All of which got me thinking about the various forms of social networking I use (or don't) and why them, what for?
I conclude I'm driven as much by style as function (though they can be the same thing). I use Pinterest (for now at least), Twitter, Squidoo and Tumblr because they are both attractive and functional. After all, to use these things you have to sit and stare at them to some extent, so you might was well be resting your eyes on something not too painful to behold. Are they the most effective sites to use? Not sure… but they're fun, and I'm there because I like them, which keeps me coming back - so there's some successful function based on style right there. 
Then there's Facebook. Basically I hate Facebook. But I use it every day, more than the others put together probably. So why am I on Facebook? Because everybody else is. It has neither form nor function that impresses, but it has the user-base. And Scrabble. So for now I'm stuck. 
Which leaves us with the elephant in the room. Shall we talk about Google+? I'm giving it a second effort just now, since a bunch of friends from elsewhere have decided to run with it for a while - I'm hoping this means I may end up with more variety and content because right now it's a little lonely in there. It's difficult to judge the style and performance fairly so far, since it doesn't do a great deal and what it does is still being developed. Sure, I prefer it to Facebook at the moment - but when it tries to do more Facebooky stuff (assuming it's inevitable), will it keep it clean and simple? Who knows. 
So meanwhile I'll paddle about in the sites I actually like, picking up a few new virtual chums along the way, and will dive back into Facebook at intervals to see how my actual friends are doing!
See you around. :o)